Ferris Wheels vs. Observation Wheels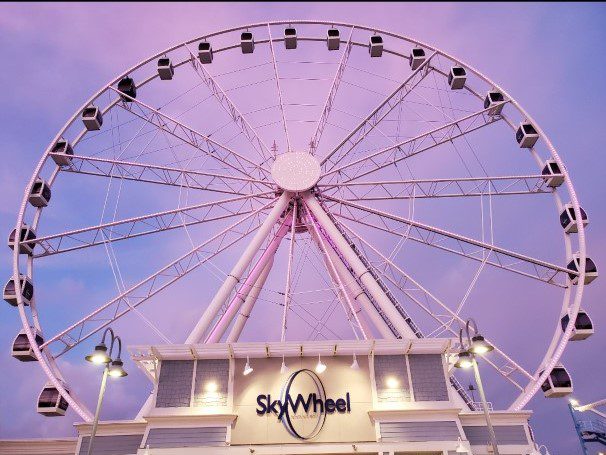 When the Ferris wheel was created, it was a wonder to see and experience. From fairs to amusement parks, it seemed Ferris wheels were an experience like no other. As the popularity of Ferris wheels grew, the world began to see taller, grander wheels that people could experience on a larger scale. The London Eye in London or the High Roller in Las Vegas became sights to behold, and our SkyWheel is no exception! But what is the difference? Here, we'll take a look at Ferris wheels vs. Observation wheels.
What is an Observation Wheel?
Observation wheels have gained popularity around the world. As mentioned before, the London Eye and High Roller are attractions offer a new experience from your average carnival ride. An observation wheel can best be explained as a type of Ferris wheel on a larger scale. They usually include enclosed passenger gondolas for a luxury experience. These can include comfortable seating, or a standing room. Their basic structure consists of a rotating wheel mounted to a central supported structure. The great height of these rides is what sets them apart – like our 187 foot Panama City Beach SkyWheel!
What is the difference between an observation wheel and a Ferris Wheel?
Modern observation wheels are larger than their smaller and older counterparts. Often enclosed, air conditioned and even private, these observation wheels allow riders to enjoy the view year round. Ferris wheels are generally smaller in size and cheaper than an observation wheel, making them ideal for carnivals and amusement parks.
Think of observation wheels as two different types of racing. Go-karting is more fun, but doesn't give you the full experience. And nascar racing is an all out thrill fest that you'll never forget. Both can be considered racing, but one has more people, more speed and thrills than the most recent version does. Observation wheels are just the modernized, grander version of the Ferris wheel.
Aspects of an Observation Wheel
Observation wheels are typically used to overlook scenic areas, like our own Panama City Beach. They scale larger than your average Ferris wheel, allowing you to view a larger distance and take in your fill surroundings. Our own SkyWheel reaches nearly 200 feet tall. Thin cables to stabilize an observation wheel gives it a transparent look, making it classier and more modern to the eye. Gondolas, including our own allow a relaxing and comfortable experience on the wheel. These structures are made for viewing and experiencing the world surrounding you. They offer a more grand and memorable experience. These gondolas are also usually enclosed and temperature managed to allow for private and comfortable rides. sure beats out the open carts of a Ferris wheel!
Aspects of a Ferris Wheel
A Ferris wheel is a type of amusement ride similar to a carousel with open seats, or brightly colored cabins that get filled with people and travel around in a circle as the entire structure rotates. They are one of the most simple and familiar rides at amusement parks, fairs and carnivals. We have all been on a basic Ferris wheel at least once. These rides are usually short and can be found at most local fairs or amusement parks. While they share the same basic characteristics with an observation wheel, Ferris wheels are usually smaller and closer to the ground. This is because Ferris wheels offer open-air carts rather than enclosed spaces.
Now that you know the difference between Ferris wheels vs. Observation wheels, its time to book your ride on the Panama City Beach, Florida Skywheel! Enjoy the views from the top of our observation wheel, a good game of mini golf, and a trip to our ropes course for a full day of fun. Contact us today to see how we can help you!